A documentary about the emotional and groundbreaking fight for reparations in a Chicago suburb will premiere on PBS on Martin Luther King Jr. Day — and chronicles "history in the making," its filmmakers say.
"The Big Payback," which made its public debut last summer at the Tribeca Film Festival, shines a light on the first publicly funded reparations for Black Americans, which have so far given $25,000 each to 16 Evanston, Ill., residents, for what's called the Restorative Housing Program.
The film is fitting and timely, and comes as another big, first-of-its-kind push for reparations is underway at the state level in California — where a task force working to study reparations is set to submit a final report this summer — and as other cities around the nation consider their own programs to try to address harms against African Americans that started with slavery and have continued with systemic and institutional racism.
Evanston city officials call the program just the first phase of reparations, but it remains controversial — both because some people think Black people aren't owed reparations at all, and also because some Black people don't think a tightly controlled distribution of funds solely for housing-related purposes is enough.
The film explores that conflict and more as it introduces a cast of characters including Robin Rue Simmons, the now former alderwoman who was the driving force behind the effort in Evanston, and Rep. Sheila Jackson Lee, the Texas Democrat who took up the push for national reparations through H.R. 40, a bill introduced numerous times by the late Rep. John Conyers, a Michigan Democrat. The House legislation, which calls for a $12 million federal commission to study and develop reparations proposals for African Americans, has languished for decades in Washington since its introduction in 1989.
Erika Alexander, an actress of "Living Single" and "The Cosby Show" fame, was one of the film's directors and producers. As a Black woman, she "had a lot of goosebumps" while making the film and meeting "legends" like Jackson Lee and newer leaders like Simmons, she said in an interview with MarketWatch.
Related: Reparations for Black Americans will cost up to $14 trillion and 'could finally lead to closure,' economist Sandy Darity says
Now the film, co-produced by Black Public Media and presented by Independent Lens, is set to debut before a wider audience.
Alexander worked on the documentary alongside fellow director and producer Whitney Dow, with whom she also hosted a narrative podcast by the same name. Dow, a white man who has produced and directed several movies about race that include "Two Towns of Jasper," said it was tough work not just to get the movie funded but also to get it made during the COVID-19 pandemic.
"I've been making these films for a couple of decades," said Dow, who also is an educator. "It's always a struggle. You look at what's popular on TV, it's 'Love Island,' it's [Prince] Harry and Meghan [the Duchess of Sussex]. … This is a complicated subject."
On the challenge of getting funding, especially for a movie about reparations, Alexander added: "When we talk about reparations, we talk about historical disadvantages — that includes media and entertainment."
But they managed to get funding, and what emerged is a film "about history in the making," Dow said. They set out to make a film about the history of slavery, but ended up with one about the efforts to deal with its lasting effects.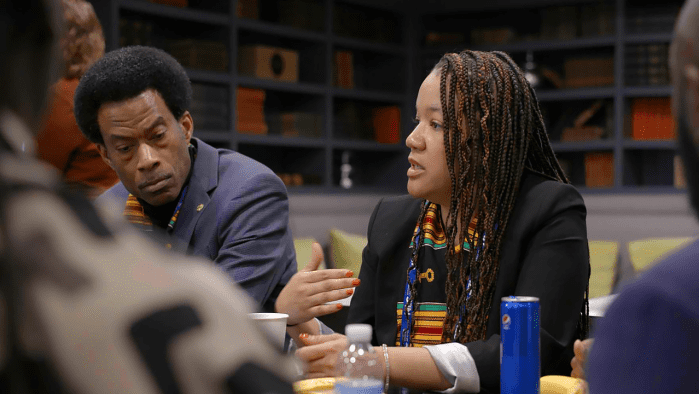 In Evanston, that meant taking a glimpse at the pushback and challenges that Simmons faced as she led the reparations effort, which coincided with major events like the Black Lives Matter marches after the deaths of George Floyd and Breonna Taylor, the ongoing pandemic and the Jan. 6, 2021 attack on the U.S. Capitol.
The filmmakers talked to Black and white residents of the city with a population of less than 80,000, taking the viewer into their lives, businesses, offices and homes — which, at times, look to be obvious reflections of the racial wealth gap. There were Black residents who were for and against reparations, and those who changed their minds. There were white residents who were for and against reparations, and those who weren't afraid to speak their minds.
Read more: California reparations push could give Black residents hundreds of thousands of dollars — here's what they say they would do with it
The film contains scenes that are sure to play out again and again as Simmons — who has since started a nonprofit that focuses on reparations — travels the country and meets with many other local leaders who are working to replicate or build on Evanston's efforts, or are inspired by what happened in the Illinois city.
Both Alexander and Dow are hopeful about what transpired in Evanston, as well as the growing reparations movement.
If there's one message that needs to get out there, Dow said, it's that "if reparations take place, it will uplift all Americans."
"We're all architects of the third Reconstruction," Alexander added, referring to the time after King's assassination as the second Reconstruction. "This is our shot. Things are moving and changing right now. America has got to finally deal with its moral debt."
Related: Reparations are a 'human rights issue' that will boost the economy, says California task-force chair