A new rise in COVID-19 cases may have already begun, and while U.S. officials have expressed concern about the potential for another surge, they've stopped short of recommending new protocols and restrictions, at least for now.
Hospitalizations remain at the lowest levels since around the time the pandemic began, suggesting the severity of cases has been reduced as more people get vaccinated, the daily average for deaths has ticked higher for a second-straight day.
Dr. Anthony Fauci, the White Houses chief medical advisor, said over the weekend on ABC's "This Week" that COVID-19 is not going to be eradicated, so Americans will have to live with some degree of the virus in the community.
But he warned people not to just accept the fact they will get the virus, because although data suggests the currently dominant and "highly transmissible" omicron subvariant BA.2 appears to be less severe, especially for those who are vaccinated, it can still cause significant illness and lead to long COVID.
"We don't want to pooh-pooh getting infected," Fauci said, according to the "This Week" transcript.
"I think people sometimes say, well it's OK to get infected. No, it's not, because there are things like long COVID and there are sometimes people, even though they don't require hospitalization…they get significantly ill," Fauci added.
"That's not something to pooh-pooh."
The seven-day average for new cases rose for a third-straight day to a four-week high of 31,205 on Sunday, according to a New York Times tracker. It has increased 3% over the past two weeks, with more than half of U.S. states seeing cases rise over that period.

Washington, D.C. led the way with a 76% jump in cases over the past two weeks, helped by the dozens of attendees of the Gridiron Club dinner who tested positive for COVID-19, including House Speaker Nancy Pelosi (D-Calif.), Attorney General Merrick Garland and Valerie Biden, President Joe Biden's sister. Read MarketWatch's "Coronavirus Update" column.
After the nation's capital, eight U.S. states have seen the daily average of cases surge by more than 50% in the past two weeks, and about one-third of the states have seen cases rise by more than 25%. Pacing the pack is Rhode Island at 68%, followed by New Jersey at 67% and New York at 60%.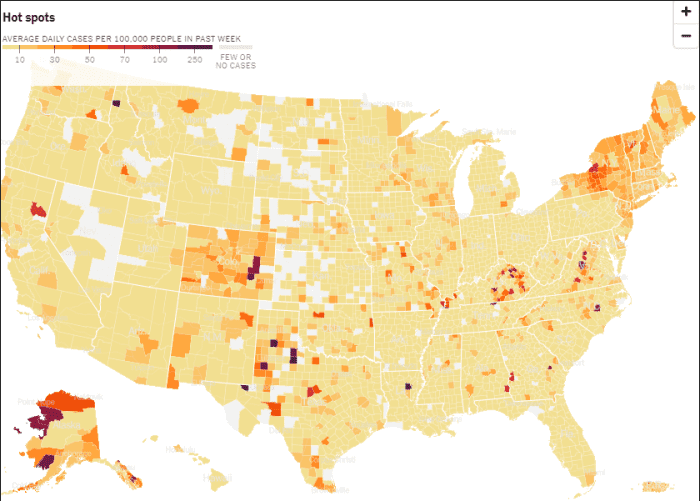 Dr. Ashish Jha, who President Biden named the new White House COVID-19 response coordinator last month, said on NBC's "Today" on Monday that he was "not overly concerned" about the recent rise in cases, because they are coming off very low infection numbers and because hospitalizations are at the best levels since the pandemic started.
"We've got to be careful, but I don't think this is a moment where we have to be excessively concerned," Jha said.
The daily average of COVID-19-related hospitalizations was 15,058 on Sunday, according to NYT data, down 18% from two weeks ago and the lowest number since April 1, 2020. Meanwhile, 10 states have seen hospitalizations increase over the past two weeks, led by Vermont at 89% and New Hampshire at 24%.
The daily average for deaths was 570, down 28% from two weeks ago, but up two-straight days from an eight-month low of 554 on April 8. The states with the highest number of deaths per 100,000 were Tennessee at 0.83 and Arizona at 0.81.
Dr. Fauci said despite the increase in cases, he doesn't feel the need to recommend wearing face masks in indoor settings, given that overall numbers remain low, particularly given the reduced severity of the current variant, but that doesn't mean his recommendation won't change.
"[R]ight now we're watching it very, very carefully," Fauci said on "This Week." "And there is concern that it's going up. But hopefully we're not going to see increased severity."
And when Dr. Jha was asked Monday on "Today" whether mask mandates for public transportation and airports should be extended, as they are currently set to expire on April 18, he said that would be up to the Centers for Disease Control and Prevention (CDC), which should provide an update to protocols in the next few days. He did say, however, and extension is not out of the question.
"This is a CDC decision, and I think it is absolutely on the table," Jha said.
Other COVID news
New York City Mayor Eric Adams tested positive for COVID-19 on Sunday, on what was his 100th day in office, as the Associated Press reported. Adams said the only symptom he had was a raspy voice, but he canceled all public events for the week and said he would be taking antiviral medications.
President Joe Biden has tested negative for COVID-19 again on Monday, according to the White House. He had tested negative on Friday, after a number of government officials tested positive in the aftermath of the Gridiron Club dinner.
Shares of Veru Inc.
VERU,
+175.98%
nearly tripled in midday trading Monday, after the biopharmaceutical company announced positive results from its Phase 3 trial of its oral COVID-19 treatment. Veru said patients hospitalized with moderate to severe COVID-19, who were at high risk for adult respiratory distress syndrome (ARDS) and death, its oral sabizabulin led to a "clinically and statistically meaningful" 55% reduction in deaths. The Independent Data Safety Monitoring Committee "unanimously" recommended the Phase 3 trial be halted early because of efficacy, with no safety concerns identified.
China-based electric vehicle maker NIO Inc.
NIO,
-0.57%
warned over the weekend of delivery delays, as suspended production due to COVID-19 restrictions have led supply-chain disruptions. That follows an announcement by Tesla Inc.
TSLA,
-3.28%
in late March that it would pause production at its Shanghai "Gigafactory" because of a COVID-19 lockdown.
The number of fully vaccinated Americans reached 218.38 million, or 65.8% of the total population, according to the CDC's latest data. But it's been more than six weeks since the percentage of the population fully vaccinated has increased a full percent.
On a global basis, the total number of COVID-19 cases has increased to 498.15 million while the total number of deaths has reached 42,290,516 as of midday Friday, according to data aggregated by Johns Hopkins University. The U.S. continues to lead the way with a total case count of 80.40 million and 985,482 total deaths.